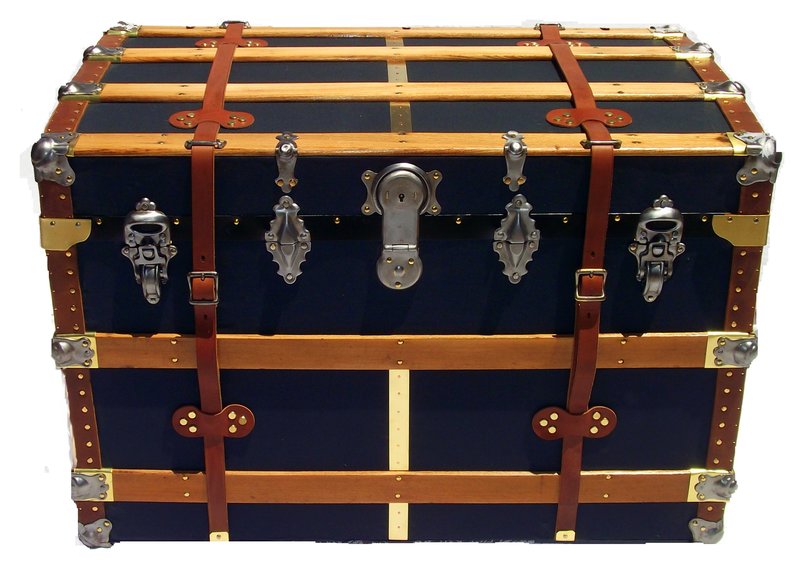 FREQUENTLY ASKED QUESTIONS ABOUT OUR RESTORATION SERVICES
Q:  
I have a standard size steamer trunk.  How much will your restoration service cost?
Usually it will be approx. $1100 - $1500
Q:  
How about a barrel top trunk
?
 It will cost about the same as a standard steamer trunk.  
Q:   
How do I know that I won't get hit with 'extra' charges?
You won't.  We will give you an estimate "range" and the price will never exceed
                       the higher amount, period.  That's our guarantee, and you'll have it in writing!  We are flexible
                      and willing to add "extras", if that is what you want.  Just let us know.

Q:    
I have two trunks.  Can I get a discount if I sent them both to you to restore?
Absolutely!  We will offer you a discounted rate for the second trunk.
Q:      
How do I pay you, and when?
For your convenience, we accept all major credit cards, and we make it easy with
                        just two payments.  You pay a deposit of 50% at time of scheduling, then the
                        final payment when your trunk is finished.

Q:    
 What's the deal with shipping?  I live out-of-state.  How can I get my trunk to your shop?
Not a big deal!  Over 95% of the trunks we restore come to us from all over the 

                        world.  Check your local FedEx Ground or UPS centers.  Many offer very

                        reasonable packing rates and they make it easy to send large and small packages.

Q:       
I have a very old Louis Vuitton trunk that I would like to have restored.  Do you work on these?
Yes!  Louis Vuitton trunks, Goyard and all French made trunks are a specialty of
                         ours.  It doesn't have to be an older model either as we have experience working
                         on the newer ones as well. 
Q:       
My antique trunk also needs new handles.  Are these included in the price estimate?
                         Yes!!  We receive many compliments about the handles we install on trunks which
                          we restore as they are custom made for each and every trunk, some are stitched by 
                          hand, by us, right here in our shop. 
Q:       
I have on old wardrobe trunk that I would like to get restored.  Do you work on these too?
Absolutely!  We LOVE working on wardrobe trunks!  See the section on our site entitled

 WARDROBE TRUNK CONVERSIONS
Q.        I find what you guys do to be very interesting.  How did you get into doing this kind of work and how

            did you learn the trade?

Well, it's kind of a long story but if you check our ABOUT US page on this site and also read
                           a few articles in our PRESS page, you'll get an idea.  The bottom line is that we LOVE working

                           on antique trunks and will keep doing this forever!