WARDROBE TRUNK CONVERSIONS
Since we began restoring antique trunks (and every other style of old trunk), we have always been proud of the work we've done on wardrobe trunks.  If you have had a look at the pages of this website, chances are you have seen examples of some of the restorations and conversions that we have performed on various large and small antique wardrobe trunks.  What differentiates a wardrobe trunk from any other trunk is that it will usually have drawers, hangers and other storage compartments not normally found in a typical "travel trunk".   It also is designed to 'stand up' rather than be laid down on the side, for obvious reasons.

                               
This 'standing up' design lends itself to a number of creative changes, or conversions.  One of the most popular redesigns for a wardrobe trunk is to convert it into a bar.  That's right...a bar!  We've converted dozens of these antique trunks into bars and, while they are time consuming to restore this way, the end result can be incredible.  Not only does this kind of project produce a beautiful and useful piece of furniture once complete, it can be designed to fit in with any sort of decor imaginable.  Now this is where the fun begins!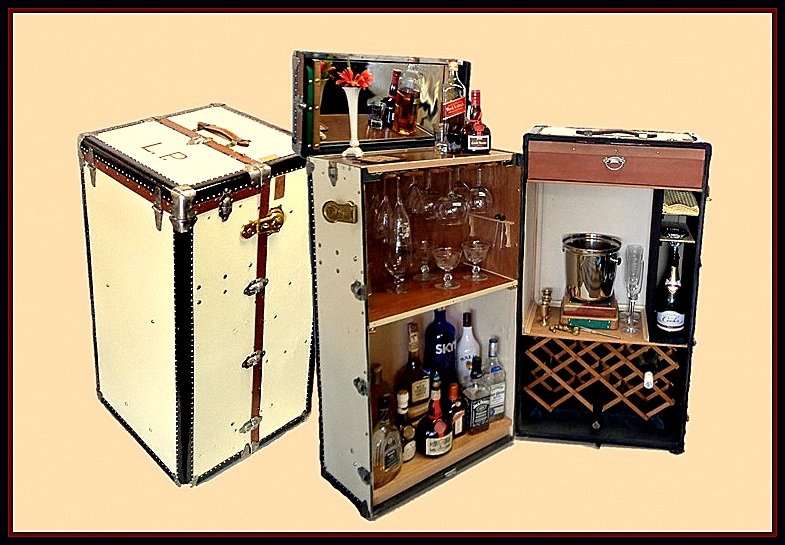 If you have an old wardrobe trunk that you would like to have converted into a bar, call us!  There are numerous, rather ENDLESS possibilities and we are here to consult with you on what works best, how much it will cost and how long it will take to achieve exactly what you would like.  Want an interior design that is rich with leather and mirrors?  That's an easy one!  What are the primary colors of the room in which your newly converted trunk will be in your home?    Want it to have lots of extra storage cabinets and drawers?  Just imagine that musty old trunk that has been in your family forever,  being reborn with the colors that will work in your home and it being FRESH, FREE OF MOLD, CLEAN and now a striking centerpiece that will be able to be passed down for generations to come.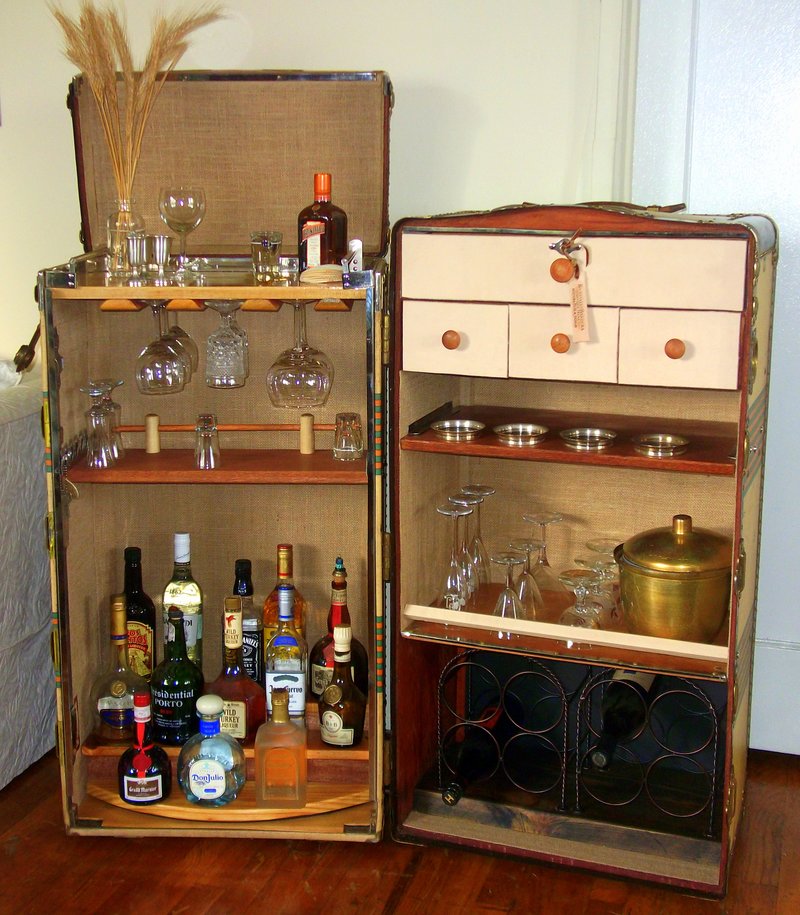 It's not just all about "Bar Trunk" conversions either.  Most wardrobe trunks were built with an efficient design...a traveling 'closet', if you will.  Lots of drawers, an area to hang your clothes on hangers, boxes for your shoes and a zillion other compartments for storing and transporting your wearing needs.  Most people need extra storage space for clothing and nothing works better than being able to stand up a beautifully restored antique wardrobe trunk and load it with your favorite clothing and accessories.  The best part is that it doesn't take up a lot of space and can be easily positioned in just about any room.  We're finding that more and more people want to have their wardrobe trunk utilized as a display in the home and with good reason.  Hang an elegant antique dress or suit within, drape a few scarves from the drawers and you've got the beginning of a virtual movie set within your home!  Maybe you'd like to have the drawers reconfigured to accommodate your collection of shoes, what a great idea, and we can do that for you!  Having your wardrobe antique trunk converted into a useful piece of furniture is as practical as it is exciting and it's really up to you just how simple, or radical, you want the change to be.  The below photos are samples of some of the antique wardrobe trunks that we've restored and converted and any of the elements that you see incorporated into these can be fitted into your trunk.  We have also performed restorations on a good many Louis Vuitton wardrobe trunks, large and small.  We are able to perfectly match color, design and, in most cases, hardware to maintain the historical accuracy of each piece.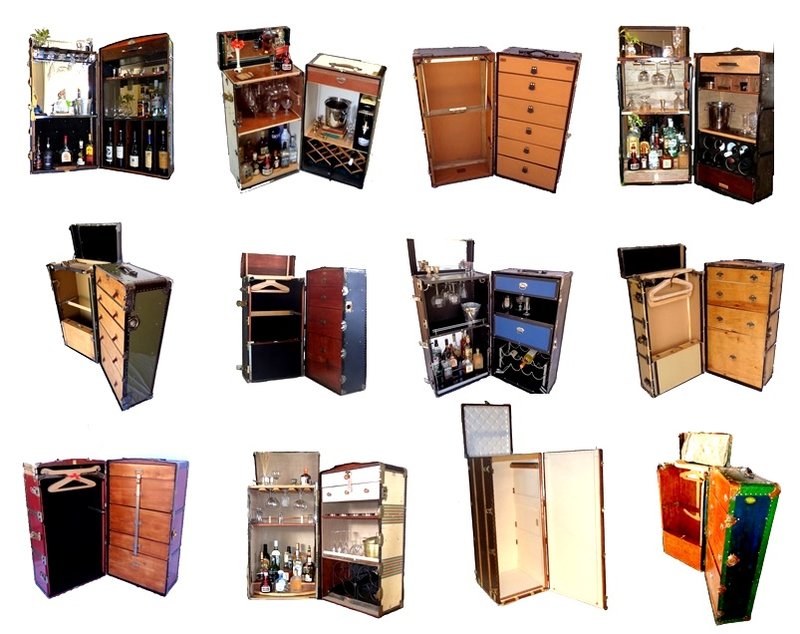 One of the challenges presented by most wardrobe trunks is mold.  Bad stuff it is, and it can render your antique trunk unusable; because of the incredibly horrible odor that accompanies it.  Wardrobe trunks in particular, have been cursed with mold and there is an obvious reason why.   Imagine after each wearing, you put your clothes back into a drawer and then have the clothes sit in that same space during your entire trip.  AND THEN! your wardrobe trunk gets stored in the deep holds of steamer ship for a week.  After about 50 years (or so..) of doing this, your trunk is going to act like a sponge for odors, dirt, mold and more.  Much easier to air out a standard 'box' trunk, a wardrobe trunk has all sorts of nooks and crannies for these evil bacteria to hide and fester..YIKES!  So when we take delivery of a wardrobe trunk for a conversion or restoration, the first thing we do is open it up and get it into the sun as fast as possible.  The hot California sun that we enjoy is one of the best killers of mold and we are lucky to have such an ally!  After a few days of being blasted by the sun, we then reach into our arsenal of mold killing agents and hit it hard.  More sun, then more cleaning and dosing with these agents does the trick.
AND..it is not just all about the interior that we can restore.  Over the years, we have perfected a way to restore the EXTERIOR surfaces of an antique trunk too.   The below photos show some examples of our technique, in the finished state.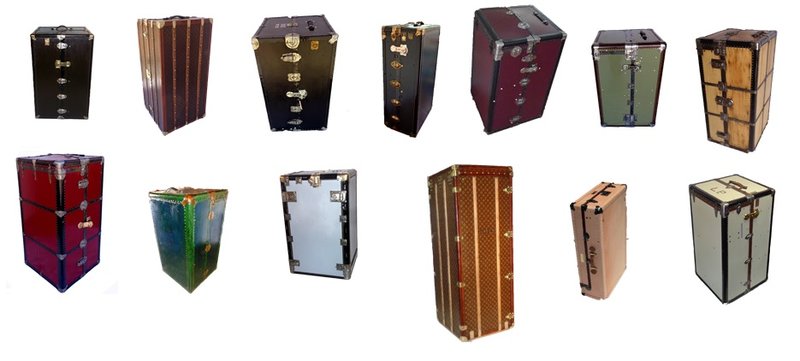 As you can see, we've refinished just about all of these exterior surfaces back to a near new condition.  What we haven't shown are pictures of exteriors that we've pretty much left alone to retain original character.  Lots of times there will be travel stickers plastered all over an exterior and these can be part of the charm of the piece.  So we work around them.  Or remove them and then place them back, exactly as they were before.  For a nominal fee, we can also recover the entire antique trunk in leather, if you want, or make it any color that you want.
It is also interesting to note that wardrobe trunks were considerably more expensive than regular trunks when new.  Makes sense.  More compartments, more features, much more elaborate design makes for a higher retail price.  Lets take a look at the photos above with all the wardrobe trunks closed up.  The RED one on the bottom left side, when new, was in the range of $200 back when it first hit the stores, brand-spankin' new.  In TODAY's dollars, that would be around FIVE THOUSAND DOLLARS!  How about a less elaborate antique trunk from that grouping....the black one, directly above it, in today's dollars would have cost approx. two thousand dollars, back then?  $89.00.   Isn't inflation grand?!  Now think about having YOUR trunk restored and having it last for the next SEVERAL HUNDRED YEARS!  Restoration is a great value using any calculation!
We welcome the opportunity to work on your wardrobe trunk and would be more than happy to give you an estimate for the project before you commit.  First sending us detailed photos of your trunk, inside and out, is the way to let us know that you are serious about wanting to have your antique wardrobe trunk converted into a one-of-a-kind masterpiece that will last through many generations.  If you intend to give your trunk to someone, particularly a family member, there is no better way to preserve the family legacy.  So TODAY is the day to get this project underway!  The longer that your trunk sits in your basement, or garage or attic, means less time that you will have to be able to enjoy it.  Get in touch with the experts on how to restore antique wardrobe trunks right now!  760 699-8156